How about a book update? Here's a list, with reviews, of what I've read since February 19th.
Almost Everything: Notes on Hope by Anne Lamott
My rating: 4 of 5 stars
And I promise that the people you lose here on this side of eternity, whom you can no longer call or text, will live fully again both in your heart and in the world. They will make you smile and talk out loud at the most inappropriate times. Of course, their absence will cause lifelong pangs of homesickness, but grief, friends, time, and tears will heal you to some extent.
Full of thoughts not just on hope but also on gratitude, love, forgiveness, writing and more, this book is like sitting down for lunch with a trusted old friend.
Florida by Lauren Groff
My rating: 4 of 5 stars
I'm giving this 4 stars because the writing is brilliant, Groff captures a setting in a way that makes me feel like I'm right there. I just wish the settings in these short stories weren't so sad, bleak and gross. I was compelled to finish it and I'm not a big fan of short stories which is an indication of just how great Lauren Groff writes.
The Museum of Modern Love by Heather Rose
My rating: 4 of 5 stars
Beautifully written story about art, love, grief, hope, and so much more. I really enjoyed this one.

The Library Book by Susan Orlean
My rating: 4 of 5 stars
All the things that are wrong in the world seem conquered by a library's simple unspoken promise: Here I am, please tell me your story; here is my story, please listen.
I love libraries and reading a book dedicated to libraries and their place in our world was wonderful. While the author's main focus is on the LA Public Library there is still much to be taken from this with regards to all libraries everywhere.
Tears We Cannot Stop: A Sermon to White America by Michael Eric Dyson
My rating: 4 of 5 stars
The most radical action a white person can take is to acknowledge this denied privilege, to say, "Yes, you're right. In our institutional structures, and in deep psychological structures, our underlying assumption is that our lives are worth more than yours." But that is a tough thing for most of you to do.
There is so much to take from this book, stories of police brutality and the fear a black person lives with daily, wisdom on the history of racism in our country and the pervasiveness of white fragility, and practical advice on books to read, actions to take, and things to do to improve race relations. Highly recommended.
The Proposal by Jasmine Guillory
My rating: 4 of 5 stars
Light and easy, a perfect romance novel!

Washington Black by Esi Edugyan
My rating: 3 of 5 stars
This book had all the things that would normally prompt a 5 star rating from me: interesting characters, great descriptions of the settings, and an intriguing plot. And yet I'm only giving it 3 stars because something that I can't quite put my finger on was missing. I'd say I'm glad I read it and I know I'll be thinking about it for a while but it wasn't the masterpiece I was expecting.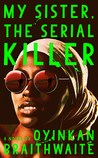 My Sister, the Serial Killer by Oyinkan Braithwaite
My rating: 4 of 5 stars
Fast-paced, clever, and full of dark humor, this book is a thoroughly entertaining read.
One Day in December by Josie Silver
My rating: 2 of 5 stars
This romance just never got off the ground for me. The characters are dull, the story is predictable, and it just takes WAY too long to get to the resolution you know is going to happen from the outset.
The Red Address Book by Sofia Lundberg
My rating: 3 of 5 stars
I really enjoyed the plot of this book but overall it never really took off for me. The characters are one dimensional, the descriptions are simple, and there are just too many . . . rescuers to make it believable. Don't get me wrong, it's entertaining, but it could have been so much more.
And there you have it. Mostly really great books. What have you read lately? You know I want to know!